About Us
If you gave up wine becuase it started to make you feel bad...welcome back and get ready to feel GOOD.
Each wine is tasted and selected by Sommelier Wine Director, Marin. Extensive research is done into each and every wine so we know how the grapes are grown and how it's made.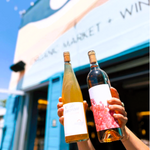 Behind the wine Club
Our Roots
GOODONYA was founded in 2001 in San Diego and has grown from a small deli into a thriving Organic Eatery, Wine Lounge, Market and Wine Club, based in Encinitas, California. We have grown and evolved with our food knowledge over the past 23 years. When we decided to sell wine in our restaurant and market we took a deep dive into the wine industry. Oh, and we were shocked at what we found, and at the same time, amazed! If we were going to sell it (and lets face it, drink it) it had to meet our healthy standards. We are all about feeling GOOD. And wow, GOOD wine is great, and mass produced wine is a headache waiting to happen. We are so excited you've found our club, you are going to LOVE it. And if you gave up wine because it started to make you feel bad...welcome back and get ready to feel GOOD.
OUR WINE
Somm Selected
We guarantee wines made from producers who are enviormentally and socially concious in their vineayrds and wineries. Supporting an industy of winemakers who care about creating wine that is better for you and the planet.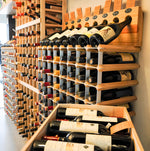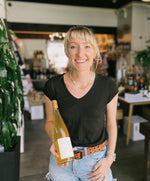 Marin Durrenberger
Meet our Wine Director
Marin was born and raised in a small town in interior Alaska, but was thrown into restaurants as soon as she started her first job at 14. Since then her career has taken her from Alaska to Colorado, Northern California and finally San Diego. She's always enjoyed wine but the passion really started to grow in 2019 while working as the general manager of a farm to table restaurant in Anchorage, Alaska. She moved to San Diego in 2020 after her restaurant closed due to COVID, and started at GOODONYA soon after. With the growing natural wine scene here in San Diego and how that lined up with the values here at GOODONYA, she took the lead on growing the wine program into what it is today. Starting the club was a passion project that has turned into a thriving community of like-minded wine drinkers in San Diego and beyond who are passionate about natural wine.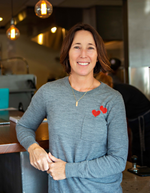 Kris Buchanan
Meet our Founder
As Olympic athlete, I spent decades consuming artificial, high-sugar sports drinks, energy bars and processed carbs. After I retired, I developed a few autoimmune conditions and hypoglycemia. I went back to school for Holistic Nutritionist and realized the answer to everything we eat and drink, is incredibly simple: look to nature, not a lab. Sugar also became a passion of mine. Sugar levels in the standard American diet, including our wine, is at horrific levels. My passion is to make food and drinks that we all love, and that is GOOD for us, yet still tastes amazing. And it's easy when you choose nature.
What our Customer Think about us!
Testimonials
5

I came in to buy a bottle of champagne for the beach, and ended up leaving with a monthly wine membership, 3 bottles to take home, and a brain full of new knowledge about organic and biodynamic wines! I can't express how happy I am that I joined this wine club! Get the 6 bottle membership, you won't be disappointed. It's so nice knowing that the wine is low in sugar, made from natural ingredients, and not breaking the bank!

Erica Hagman

5

Bought this membership as a gift for my girl for her birthday and let me tell you... this has scored me SO MANY brownie points! She loves it! Every month she picks up her wines, she is amazed at how delicious the selection is, how friendly and knowledgeable the staff is, and how awesome their wine lounge is! If you're looking for a gift for a loved one, or to spoil yourself.... GET THIS MEMBERSHIP! Love that her membership comes with a couple of free glasses of wine per month if you pick up. Awesome.

Mark

5

The quality and price point for their wine club is unreal! They even have an amazing lounge that's open on the weekends for me and my girls to come and enjoy a glass of wine and some amazing apps. I recommend this wine club to everyone I know. Every bottle is hand picked by their wine gal and everything is all natural…. so it's virtually hangover free! So happy to be apart of this amazing wine club! I'll be a member for life!

Chelsea